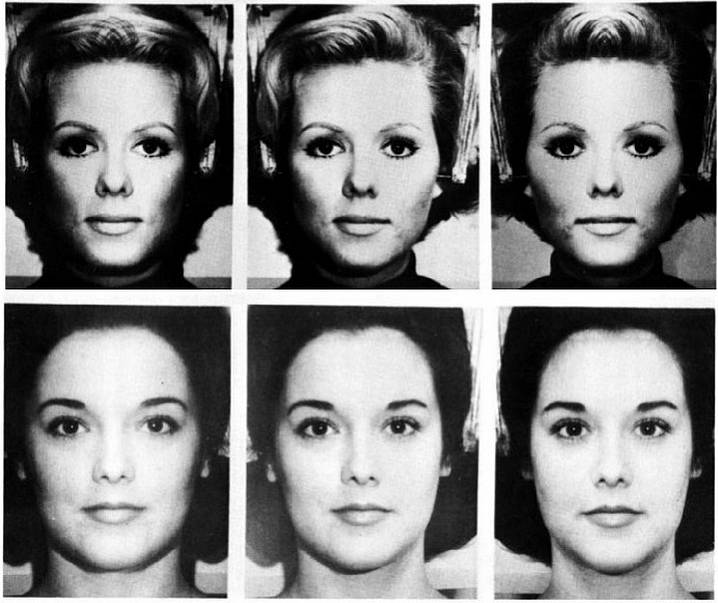 Early use of image manipulation by the Peck brothers, leading orthodontists of their time and advocates of facial aesthetics.
The images are intended to show varying facial development, according to how teeth might be allowed to change, or move. People were asked whether they found some profiles more attractive than others.
Answers tended to be consistent, because we are all programmed to appreciate certain facial shapes. A combination of genetics and societal influence.
Neolithic paintings can show a level of esteem for bodily and facial form. Similar thoughts lay at the heart of Egyptian art, the Greek and Roman societies which followed took this to new levels.
Our own social networks are not shy in doing the same. Ideas that the face mirrors the mind are not realistic, yet the influence on people's perception is clear and should be a factor in orthodontic treatment.
Harmony In Change
The orientation plane of our face and whether parts appear convex, or concave change appearance. Our cheeks and lips are at the core of facial structure and are supported by the teeth, or jaw.
Their configuration impacts the shape of our face and an orthodontist should understand this. Straightening teeth is simply not enough, the aesthetic outcome of decisions matters for the present and future.
Most people with a full complement of healthy teeth don't associate changes in tooth structure with ageing but this is a factor in maintaining harmony.
A Lasting Effect
Completing orthodontic treatment with the smile you wanted is a critical, wonderful step. Improving facial balance at the same time is a further benefit, although one which needs to look forward.
As we age, the volume of our faces and underyling bone structure can change. The smile can narrow, cheeks appear hollow, whether our teeth remain vertical affects more than how they look.
Orthodontics can't stop the ageing process but well thought out treatment helps to maintain looks. For slightly older patients, improving overall facial aesthetics can be a reason for treatment.
Individual Solutions
From your first examination, through imaging, a dental assessment and treatment choices, your facial profile will be a core consideration.
If there are aspects you are aware of, they can be discussed. The specialist orthodontist you work with can explain their thinking and the vision they have beyond your teeth, as important as they are.
Good orthodontics serves oral and psychological health, wanting to look good is a natural wish. Facial aesthetics is not an add on, simply part of the holistic care you should receive.